This article originally appeared in the September / October 2013 issue of Skeptical Inquirer. Subscribe today and read this entire issue. You will also gain access to our full archive, dating back to 1976.
An update of our "Psychic Defective" analysis examines developments in eleven cases Sylvia Browne made predictions about, explores a new reading, and scrutinizes her other failed predictions about the papacy and American politics.
Sylvia Browne continues to offer $850 phone readings, sell books, deliver public lectures, and head her own church as she remains one of the most famous
psychics in the United States. My 2010 coauthored article, "Psychic Defective: Sylvia Browne's History of Failure," compiled every publicly available
prediction Browne made on missing person and death cases, totaling 115 readings, and concluded Sylvia Browne was mostly correct zero times, mostly wrong in
twenty-five cases, and had ninety unknown outcomes (Skeptical Inquirer, March/April 2010). In the last three years there have been developments in the
cases of Amanda Berry, Nicholle Coppler, Jerry Cushey, Alexandra Ducsay, Dustin Ivey, Hunter Horgan, Amanda Lankey, Christopher Mader, Dena McCluskey, Michelle O'Keefe, and Pat Viola that were
listed as having unknown outcomes.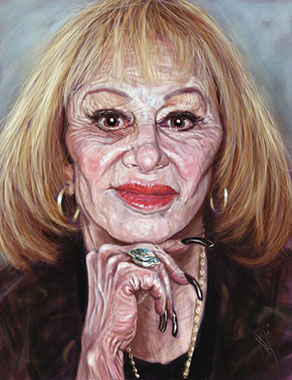 Illustration by Neil Davies
This article updates the previous analysis with a new reading, bringing the total to 116 cases, and investigates changes in those eleven cases with
previously unknown conclusions by showing Browne mostly wrong in eight, with three remaining in the unknown category. The result? The evidence demonstrates
Browne still has never been mostly correct in a single case, thirty-three cases have mostly incorrect predictions, and eighty-three cases have unverified
outcomes. The article also looks at the human toll Browne's predictions have had and other notable predictions that can be finally evaluated.
On April 21, 2003, Amanda Berry went missing a day before her seventeenth birthday. Louwana Miller, Berry's mother, was desperate to find her daughter and
believed Browne was the key to solving the disappearance. In 2004, Miller was flown to The Montel Williams Show where Browne told the grief
stricken mother that "she's not alive," mentioned "water" as a location where Berry was, and said she was dead because "your daughter was not the type that
would not have called you" (Radford 2013). Besides claiming that a potential person of interest was "sort of Cuban-looking, short kind of stocky build,
heavyset," she said he was "maybe 21, something like that, 21, 22." When Miller asked if she would ever see her daughter, Browne told the bereaved mother,
"yeah, in heaven, on the other side."
The impact of Miller's appearance with Browne on Montel was crushing for a mother who held out hope her daughter would be found alive. In a
detailed interview with Miller by Stephen Hudak, the mother said she believed Browne "98 percent" (Hudak 2004). When Miller died of heart failure in 2006,
reporter Regina Brett explained how hard Miller worked at drawing attention to the case and looking for her daughter "before that psychic did her in"
(Brett 2006). According to that article, Browne was more specific than what was aired on television, telling Miller that Amanda "died on her birthday,"
"she didn't suffer," and "that her black hooded jacket was in a dumpster with DNA on it."
Browne's prediction was wrong. On May 6, 2013, Berry fled after being held in torturous conditions for ten years, and police called Berry a hero for her
escape that led law enforcement to her kidnapper and two other abducted girls, Gina DeJesus and Michelle Knight. DeJesus had been missing since 2004 and
Knight was kidnapped in 2000. In the chilling phone call to police, Berry identified herself as Amanda Berry, missing for ten years and identified her
captor as Ariel Castro, a fifty-two-year-old man. In a statement posted on Browne's website, a message says Sherry Cole, Amanda Berry's cousin, "reached
out to Sylvia this morning to let her know that she supports her, loves her, knows Sylvia never claims to be 100 percent right, but wanted to let her know
that she was accurate in her description of the perpetrators at the time" ("Sylvia's Statement on Amanda Berry" 2013). That Castro, born in Puerto Rico, is
"Cuban-looking" is debatable for several reasons, including the fact that being Cuban is a nationality that includes a broad category of people who have
ancestors from Africa, Europe, or both. Thus, in the broadest sense many people, not just Latin Americans, could fit that description. Browne was wrong
about the kidnapper's age; she claimed in 2004 that the person involved was about twenty-one or twenty-two, but Castro is currently fifty-two, making her
claim off by two decades, as he was in his early forties at the time. Her description was also that the suspect was "short," but an online booking
photograph shows he is about sixty-five inches (AP Photo 2013), which is only slightly smaller than the most recent U.S. government data that lists an
average height of 67.1 inches for Hispanic males between forty and fifty-nine and 69.5 inches of all males between fifty and fifty-nine (United States
Department of Health and Human Services 2010). Castro may have a "stocky build," but he does not appear to be "heavyset." The website statement also
referred to Browne's description of the "perpetrators," despite police announcing Castro "ran the show and he acted alone" (Dolan et al. 2013). This
reading is moved into the wrong category of the "Psychic Defective" list.
In 2004 Browne told the mother of Amanda Berry that "she's not alive." Amanda and two other women escaped captivity on May 6, 2013. (Photo: Dan Callister, PacificCoastNews/Newscom)
Browne remains relatively quiet on Berry's rescue aside from saying her "heart goes out to Amanda Berry," but in 2012 Browne's website posted a video of
her 2002 Montel appearance about Nicholle Coppler. In citing the case as a "validation," Browne wrote she accurately told the mother that Nicholle
Coppler "was no longer alive and could be located in or under the house and that the person who killed her was also involved with both young boys and
girls" ("Webcast Previews" 2012). When Coppler went missing in 1999, she ran away from home and met an older man, Glen Fryer. Police suspected Fryer was
involved in the disappearance early on, and in August 2001 they not only found Coppler's identification at his house but also her hair and photos. He was
arrested for rape and child pornography after police retrieved videos and photos of him raping underage girls, including a girl who was murdered in
Kentucky in 2000. Fryer, who was a suspect in his wife's murder as well, agreed to a plea deal, but on February 18, 2002, he committed suicide before
telling detectives what he did to Coppler.
Nine months after the guilty plea and suspect's death in 2002, Nicholle's mother, Krista Coppler, appeared with Browne in November 2002 on Montel where she told Krista the obvious outcome that Coppler is deceased. The mother asked, "Do you know where she's at?" and Browne replied,
"She's right near his house." Krista then asked Browne, "Is she in his basement?" and Browne responded vaguely with "yeah, in the house or under the
house." According to Lima News in 2012, "police found her skeleton after the house was demolished and while the foundation was being dug out"
(Sowinski 2012). Out of the entire reading Browne was correct on the most likely scenario given Fryer's guilty plea, suicide, connection to two previous
murders, and the evidence: Coppler was deceased. Her other predictions about Coppler being "under" the house, "near" the house, that she was "smothered,"
that Fryer transported girls "across state lines," that she did not leave the house, that people named Kevin and Billy were involved, three males were
involved, or that she was killed out of fear for reporting Fryer's crimes are either wrong or unsubstantiated. For example, Coppler's remains cannot be
"near" or "under" the house while also being "in" the house.
In total, Browne's "validated" statements for the Coppler reading were one or, at best, two out of ten predictions (counting the body buried next to the
foundation as either "in" or "under" the house as per Browne's website claim). Accepting the body as being "in" the house makes Browne's two other
statements about the remains resting "near" or "under" the house incorrect. Therefore in this reading with ten claims, Browne has a 10 percent or, at best,
20 percent accuracy, while 20 percent of her statements were wrong and the remaining 60 percent of her statements, including cause of death and possible
accomplices, are unknown. Due to a lack of evidence that could either confirm or deny Browne's other six statements, this reading remains in the unknown
outcome category. This case is also a revealing look at how Browne operates. In the transcript, it was Krista's statements about Fryer's basement that
prompted Browne to focus on the home's interior. Furthermore, nearly ten years lapsed between the reading and finding her remains; law enforcement found
the deceased and Browne played no role in police locating the body.
Browne was also proved wrong in her predictions about the August 1992 murder of Hunter Horgan, a priest at St. John's Episcopal Church in Louisiana. In
1997, Browne was paid $400 by local police for the reading in which she claimed, "The priest was killed by a 'young mulatto' homosexual who was enraged by
Hunter's rejection of his advances" (McMillan 1997). The psychic said, "Someone was in love with the minister and he [the minister] wasn't predisposed to
be in love with a man" and the "priest was trying to help him" (McMillan 1997). While Browne said she expected the perpetrator "to get caught," she claimed
that "somebody with the street name of 'King' directed gang people to do it," but when asked for a name she declined, saying, "she is concerned about the
ethics of doing so" (McMillan 1997).
Booking photo of Ariel Castro. (Photo: Cuyahoga County Jail/ZUMA Press/Newscom)
In 2007, the investigation was reignited in what turned out to be a highly unusual case that Browne failed to predict. After re-interviewing two men,
police accused Derrick Odomes, an African American who lived across from the church cemetery, of robbing and murdering Horgan and obtained DNA and
fingerprints from Odomes that linked him to the crime. As it turned out, Horgan was robbed. Both his wallet and car were stolen, and police found his pants
pockets were "turned inside out" (Monroe 2011). The trial was slow to move forward because Odomes's lawyer argued he should be tried as juvenile, because
Odomes was fourteen in August 1992 and therefore legally a juvenile. In August 2011, Odomes, at age thirty-three was found guilty for the murder he
committed as a fourteen year old. The judge sentenced Odomes to incarceration until he was twenty-one, but since he was over that age he did not serve any
time and faces life in prison for other charges (Nolan 2011). As for Browne's predictions on the murder, a gang was not involved, multiple people did not
commit the crime, no "homosexual advances" were motivating factors, there was no evidence Odomes loved Horgan, no mentions about Odomes being "mulatto,"
and no person named "King" was involved. Browne's prediction is placed in the wrong category, since most of her claims were not supported by fact or they
indeed contradicted what was presented at trial.
In 2003, Browne gave a reading to Sonya Helmantoler on Montel about the 2001 disappearance of her brother Jerry Cushey Jr. A transcript of the
reading could not be located, but a journalist at the time wrote: "Browne said Cushey had been struck on the head and choked and his body dumped," pointing
to "how hard it is to find a body in water" (Smydo 2003). Another journalist wrote that "Browne told Helmantoler on The Montel Williams Show that
Jerry was killed because he saw something he shouldn't" (Brubaker 2006). In 2010, Ronald Curran and Christopher Myers, Cushey's roommate, were charged with
the shooting death of Cushey and hiding his body over a drug debt Cushey owed. In 2011, Myers pled guilty and Curran pled guilty in 2012 (Buckley 2012).
Myers took police to the two locations where they buried Cushey's body in wooded areas (Buckley 2010). Browne's statements about the reason, manner of
death, and location of the body were false. This was a mostly wrong prediction and has been moved to that category.
On October 11, 2006, Browne did a reading about the death of Alexandra Ducsay for Linda, her mother, and said her daughter's murderer is "sort of like" the
"Zodiac Killer." Browne gave a name, but it was censored by The Montel Williams Show, claiming he "got in and followed her in" and it was linked
to "four" other women who were found and told the mother to search for rapists in the area. In September 2012, Matthew Pugh, Alexandra's former boyfriend,
was charged with murder and burglary after a small piece of tape led police to him (Juliano and Cleary 2012). Pugh is only accused of one murder, but as he
is awaiting trial this case will remain in the unknown category.
In contrast, Browne gave more detail in her October 26, 2005, reading on Montel for Tamara Ivey, mother of deceased Dustin Ivey, by saying a
teenage boy and a "dark-haired young" female were involved. Said Browne, "I think it's going to be solved really soon" and "a sexual predator" was the
suspect who used "a rock." Tamara replied, "They told me that it wasn't sexual." In 2006, Richard Joshua Collier, Dustin's brother and Tamara's son, was
charged with Dustin's murder. Police claimed the two got into an argument and Collier killed his brother. He was found not guilty at trial (Stoner 2007).
If the police and the prosecutor's charges are correct and Browne was right about the case being solved "soon," then all other details in Browne's reading
were false. Conversely, if the charges were wrong then Browne's timeline as well as the nature of his death were incorrect. Browne's verifiable statements
in either instance were mostly incorrect, which puts this reading in the wrong category.
On February 8, 2006, Amanda Lankey's 2004 murder was featured on Montel, where Browne spoke with her mother, Victoria Foster. Browne asked, "Do
you know anybody by the name of [censored]" to which the mother said yes. Browne claimed, "There was also a female involved with the first initial of 'C,'"
and Browne said Amanda was killed in a "car," specifically a blue Honda Civic. Browne said Amanda met the person on the Internet. In 2004, Cecil Wallis Sr.
was immediately named a person of interest in the murder because Lankey was last seen alive at his house and her body was found not far from that location.
In 2011, Wallis Sr. committed suicide before trial in an unrelated rape case involving teen girls at the same home between 1998 and 2002 (Tunison 2011).
Assuming Cecil Wallis Sr. was behind the murder, there is no evidence a female with a "C" was "involved," and Browne was wrong about how the person met
Lankey. Cecil Wallis Sr. was not charged with Lankey's murder, and without more evidence or a trial there are too many unknowns. Thus, this case remains in
the unknown category.
Sylvia Browne's November 30, 2005, reading for Samantha Mader, mother of Christopher Mader, had a much clearer outcome. Browne gave the mother a name,
which was again censored, and claimed Christopher's murder stemmed from the killer not liking "the food" at the bar he worked at, then later the killer
"saw him passing by, and shot him." Browne also told the mother to start looking "where he ate breakfast." Matthew Correll and Shawn Myers were charged
with the murder, and Correll was found guilty and Myers pled guilty in 2012 (Newman 2012). The two had attempted to rob Mader. Browne's predictions were
not true about how many people were involved, the reason for the murder, or how the crime happened. This case has been put in the wrong category.
On February 26, 2003, Browne made predictions for Dena McCluskey's stepmother Donna, asking the stepmother, "Who is David?" and Donna responded, "David
doesn't ring a bell at all." Browne then said, "She's in like a basement thing" locally and "the reason I brought up David is because David, with an 'L,'
last name 'L,' like something like [censored] or something, knows about this." In 2007, the police found Dena McCluskey's body "in a secluded area of
Tuolumne County" and arrested Russell Todd Jones for her murder (Ahumadara 2007). In 2011, Jones was found guilty of voluntary manslaughter in the killing
of Dena McCluskey, Jones's roommate (Ahumadara 2011). He admitted to burying her body in a shallow grave near property owned by his parents after burning
her body. Browne's predictions were false. There was no David involved, or an "L" last name, she was wrong about the body's location and a "basement" and
failed to mention that the person involved was her daughter's roommate. This reading is moved into the wrong category.
In October 2000, Browne sat down with Patricia O'Keefe, the mother of Michelle O'Keefe, who was murdered in February 2000. A transcript could not be
located, but according to news reports Browne said the killer was "a blue-eyed, dark-skinned white man named Lee or Leon, who fled the scene on a shuttle
bus" (Botonis 2000b). She further obfuscated, saying the murderer is "very dark-complected and could be mistaken as being black" and "he had a blue uniform
with a pocket and a badge or something over it" (Botonis 2000b). Browne then claimed O'Keefe's murder was part of a series of murders at that location and
that the gun used in the murder could be found "in a large green metal trash can next to an elevator or door" that had not been emptied since the murder
eight months before. In response to the taping, police announced they were following the tips Browne offered not because they believed her, but "you don't
reject any information," as "a person could say they're a psychic and really be trying to give you information either firsthand or from another source"
(Botonis 2000a).
In late 2009, Raymond Lee Jennings was found guilty after three trials for Michelle O'Keefe's February 2000 murder and was later sentenced to forty years.
Long before Browne's October 2000 reading, on April 4, 2000, Jennings was told by police he was the suspect in the murder (Brown 2012). Jennings, a
security guard at the school where O'Keefe was killed, was the sole witness and told conflicting accounts of what happened (Fausset and Blankstein 2001).
For example, he told investigators about when he first saw O'Keefe, which contradicted his earlier statements and physical evidence (Fausset and Blankstein
2001). While Browne was wrong about the suspect being named Leon, she was correct about one of his names being Lee. Browne's website celebrated this fact
by promoting a Dateline episode showing Browne saying it was "white man named Lee or Leon, who fled the scene on a shuttle bus," which had no
further analysis or clips from the show ("The Girl With The Blue Mustang" 2010). It is important to note that Raymond Lee Jennings was named as the suspect
less than two months after the murder and six months before Browne's involvement. This case received national attention before Browne's reading,
and O'Keefe's murder was even featured on America's Most Wanted in the summer of 2000. No physical evidence, such as a gun, was discovered despite
Browne's claims and police following up on her statements. She was correct about the name Lee, being white, and eye color, which could have been surmised
by anyone who followed the case knowing that Jennings had been the suspect since April. Browne was wrong about the Leon name, his being "dark-skinned,"
"very dark-complected," "could be mistaken as being black," and he did not "flee," as he stayed at the scene and did not take "a shuttle bus." Furthermore,
Browne's claims about where the gun was were false, and O'Keefe's death was not part of a series of other murders. While one might expect a security guard
to have a blue uniform and a badge, this was not the case. According to the Dateline episode, his uniform consisted of black pants, a black
jacket, and a brown shirt. The shirt had the company's red logo with a pattern of a badge on the sleeves and chest, but it was not a badge, and Browne's
claim that it had "something over it" is unclear. So while she was correct on three statements that police already knew months before, Browne was wrong on
at least ten claims. This reading is moved into the mostly wrong category.
Similarly, on February 11, 2004, Browne conducted a reading for Jim Viola, whose wife Pat Viola went missing from Bogota, New Jersey, in 2001. The psychic
said she "had a major seizure," was then given a ride by a grocery truck driver, and the husband needed to look in Akron, Ohio (Mahabir 2004). In September
2012, authorities announced they had Pat Viola's body since July 27, 2002, when they found it washed ashore on a Rockaway beach in New York. DNA tests of
the bones were taken in 2006 and new samples from 2011 led to the identification (Baustista and Superville 2012). Pat Viola was dead at the time of
Browne's reading so she could not have been alive in Ohio since her remains were in New York. This reading is moved to the mostly wrong category.
Browne's dismal record has not dissuaded people from asking her questions about criminal cases. In 2011, she was asked by Angela Spinks, in front of an
Albuquerque, New Mexico, audience, who killed Lloyd, Dixie, and Steven Ortiz, her parents and brother, with a pickaxe on Father's Day. According to
journalist Nico Roesler, Browne told Spinks the murderer was Jesse Rios, her brother-in-law (Roesler 2012). The police had previously questioned Rios and
his wife Cherie Ortiz-Rios, who found the bodies and lived on the property (Roesler 2012). An official with the New Mexico state police "told the family to
disregard Browne's answer because the show was rigged and that it was a stunt" (Roesler 2012). The murders remain unsolved, and it is unclear what, if any,
information Browne knew about the triple homicide from the media. Adding this case to the list of Browne readings with unknown outcomes to the "Psychic
Defective" article brings the total to 116 cases total with eighty-three unknown outcomes.
These readings are not Browne's only miserable predictions in recent years. Browne predicted in Prophecy (2005): "After Pope John Paul II passes,
there will be only one more elected pope" and wrote "he will be succeeded by what is essentially a triumvirate of popes" (Browne and Harrison 2005). In
2013, Pope Benedict XVI resigned, the first in nearly 600 years, and Pope Francis was elected, becoming the first pope from the Americas. Browne's
predictions about the Pope were wrong, and she failed to predict these rare moments in the papacy. In End of Days (2008) Browne made predictions
such as: "Many of the dramatic advancements in our space travel will be the direct result of what we've learned from them, from the manned Mars exploration
in 2012" (Browne and Harrison 2008). There was no 2012 mission to Mars. In 2011, Browne predicted Mitt Romney would defeat Barack Obama in the 2012
presidential election, only to reverse herself in late September 2012 when Romney was trailing in polls and received negative press for his private
comments made to donors (Skomal 2011).
If one focuses only on the missing person cases, Browne's prediction about Amanda Berry was not even the first time Browne told a mother her child was dead
when the missing child was later found alive. In 2003, Browne told the parents of Shawn Hornbeck he was dead, but he was found alive in 2007. After her
failed prediction received media attention, Browne released a statement to CNN's Anderson Cooper saying: "She cannot possibly be 100 percent correct in
each and every one of her predictions. She has, during a career of over 50 years, helped literally tens of thousands of people" ("Psychic Told Parents That
Son Was Dead" 2007). The question is, if Browne cannot be 100 percent accurate then just how accurate is she? The Ortiz reading has been added to the
metric, while Browne was wrong in the cases of Amanda Berry, Jerry Cushey, Dustin Ivey, Hunter Horgan, Christopher Mader, Dena McCluskey, Michelle O'Keefe,
and Pat Viola. The Nicholle Coppler, Alexandra Ducsay and Amanda Lankey cases remain on the unknown list. Following these recent updates to the "Psychic
Defective" article, Browne has never been mostly accurate out of 116 readings, with thirty-three cases mostly wrong and eighty-three unverified
predictions.
---
References
AP Photo. 2013. "APTOPIX Missing Women Found," Associated Press, May 9. Online at
http://www.apimages.com/metadata/Index/APTOPIX-Missing-Women-Found/891ca35dadfc49e1bf0814337bea66b1/8/0.
Ahumadara, Rosalio. 2011. Raley-McCluskey family surprised by manslaughter conviction. Modesto Bee (July 19). Online at
http://www.modbee.com/2011/07/19/1781423/modesto-man-guilty-of-manslaughter.html.
———. 2007. Search for Raley-McCluskey ends at the grave. Modesto Bee (November 3). Online at http://www.modbee.com/2007/11/03/110866/search-for-raley-mccluskey-ends.html.
Baustista, Justo, and Denisa R. Superville. 2012. Remains identified as those of Bogota woman who vanished 11 years ago. The Record (Sep­tember
12). Online at http://www.northjersey.com/bogota/Remains_found_on_Queens_beach_a_decade_ago_identified_as_those_of_missing_Bogota_woman.html.
Botonis, Greg. 2000a. Psychic's comments investigated. Daily News (October 24).
Botonis, Greg. 2000b. O'Keefe's killer 'seen' by psychic. Daily News (November 3).
Brett, Regina. 2006. On her heart: Missing Mandy. Plain Dealer (March 5).
Brown, Errol. 2012. Ray Jennings: Wrongfully convicted in the murder of Michelle O'Keefe. JusticeForRay.com. Online at
http://justiceforray.webs.com/thecase.htm.
Browne, Sylvia, and Lindsay Harrison. 2008. End of Days: Predictions and Prophecies About the End of the World. New York: Dutton, p. 243.
———. 2005. Prophecy: What the Future Holds For You. New York: Dutton, pp. 145–46.
Brubaker, Brandy. 2006. Family pleads for information on Pa. man missing for 5 years. Tribune Business News (October 12).
Buckley, Chris. 2010. Murder victim buried in two locations, police say. Pittsburgh Tribune-Review (August 19).
———. 2012. Curran guilty in slay case. Pittsburgh Tribune-Review (April 13).
Dolan, Matthew, Joe Barrett, Tamer El-Ghobashy, and Kris Maher. 2013. Charges filed in abduction of Ohio women. Wall Street Journal (May 9).
Online at http://online.wsj.com/article/SB10001424127887324059704578470750534634028.html.
Fausset, Richard, and Andrew Blankstein. 2001. Parents' lawsuit broadened in hunt for killer. Los Angeles Times (November 26). Online at
http://articles.latimes.com/2001/nov/26/local/me-8340.
Hudak, Stephen. 2004. Psychic leaves mom '98 percent' sure missing daughter is dead. Plain Dealer (November 18).
Juliano, Frank, and Tom Cleary. 2012. Milford cops make arrest in Alexandra Ducsay's killing. Connecticut Post (September 6). Online at
http://www.ctpost.com/policereports/article/Milford-cops-make-arrest-in-Alexandra-Ducsay-s-3841775.php.
Mahabir, Karen. 2004. A psychic on the case: Husband of missing Bogota woman asks for help. The Record (February 10).
McMillan, John. 1997. Psychic gives police clues into priest's 1992 slaying. The Advocate (September 14).
Monroe, Nate. 2011. Odomes guilty in priest slaying. Houma Courier (August 25).
Newman, Jeff. 2012. Mader's murderer gets life, no parole. Southern Maryland News (August 11). Online at
http://www.somdnews.com/article/20120822/NEWS/708229586/1055/mader-s-murderer-gets-life-no-parole&template=southernMaryland.
Nolan, Bruce. 2011. Murder case finally closed in killing of Hunter Horgan III, Episcopal priest. The Times-Picayune (September 23).
Psychic told parents that son was dead. 2007. CNN (January 19). Online at
http://www.cnn.com/CNN/Programs/anderson.cooper.360/blog/2007/01/psychic-told-parents-that-son-was-dead.html.
Radford, Benjamin. 2013. Psychic defective: Sylvia Browne blunders again. Skeptical Inquirer 37(3) (July/August).
Roesler, Nico. 2012. One year later, suspicions linger in El Rancho pickax killings. The New Mexican (June 16). Online at
http://www.sfnewmexican.com/local%20news/Suspicions-linger-in-pickax-killings.
Shaffer, Ryan, and Agatha Jadwiszczok. 2010. Psychic defective: Sylvia Browne's history of failure. Skeptical Inquirer (34)(2) (March/April). Online at
http://www.csicop.org/si/show/psychic_defective_sylvia_brownes_history_of_failure/.
Skomal, Lenore. 2011. Me and Sylvia Browne: 2012 predictions. Erie Times-News (October 17). Online at
http://www.goerieblogs.com/news/writersblock/2011/10/my-and-sylvia-browne-2012-predictions/.
Sylvia's statement on Amanda Berry. 2013. SylviaBrowne.com. Online at http://www.sylviabrowne.com/g/Sylvias-Statement-on-Amanda-Berry/189.html.
Smydo, Joe. 2003. What happened to Jerry?: Missing man's family searches for clues in this world and the next. Post-Gazette (July 6). Online at
http://old.post-gazette.com/neigh_washington/20030706wacoverwash3p3.asp.
Sowinski, Greg. 2012. Bones identified as missing teen Nicholle Coppler. Lima News (February 20). Online at
http://www.limaohio.com/obituaries/article_7f5167c4-412f-5759-81ad-be91a93f7fc8.html.
Stoner, Andrew. 2007. Notorious 92: Indiana's Most Heinous Murders in All 92 Counties (Bloomington: Rooftop Publishing), p. 473.
The girl with the blue mustang. 2010. SylviaBrowne.com. Online at http://www.sylviabrowne.com/b/The-Girl-With-The-Blue-Mustang/731679257300427117.html.
Tunison, John. 2011. Cecil Wallis Sr., 'person of interest' in Amanda Lankey killing, found dead. MLive.com (November 10). Online at
http://www.mlive.com/news/grand-rapids/index.ssf/2011/11/cecil_wallis_sr_person_of_inte.html.
United States Department of Health and Human Services. 2010. Anthropometric reference data for children and adults: United States, 2007–2010. Centers for
Disease Control and Prevention. Online at http://www.cdc.gov/nchs/data/series/sr_11/sr11_252.pdf.
Webcast previews: A validation on a prediction made 11 years ago. 2012. SylviaBrowne.com (March). Online at
http://www.sylviabrowne.com/p/All-Articles/A-validation-on-a-prediction-made-11-years-ago/30195.html.